911 Distress Call
MAG
November 25, 2015
Mit dir in mir beginne ich den tod zu ahnen.
With you within me, I begin to anticipate death.
–Jenny Holzer, "Lustmord"
I lay unmoving, shrill screech of tires at
my 9 o'clock –
my final requiem. The blinking streetlamp
illuminates
my pitted skin, a bouquet of black and blue,
blossoming like an ocean gradient.
He was psychedelic, wobbling, shot up with
crystalline powder
as he approached with his leathery breath,
like a newborn deer.
In a flash, my favorite dress became confetti
and he laughed;
I was close enough to count his freckles.
The Oxford definition of sparagmos
is the ritualized
tearing apart of a person – I feel rearranged,
the 206 of my human bones a masterpiece,
shattered prisms of grime and rot and
constellations of blackblue.
Last night the neighbors thought they saw a sleeping girl
in the back alley, arms and beige tights crossed over delicately –
they did not want to wake her. In the morning, there is
a chalk outline and a bright blue bag around my lukewarm body.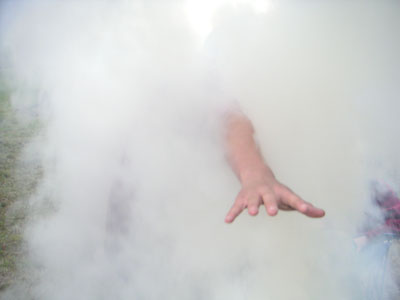 © Garrett M., Port Angeles, WA