Homesick
November 4, 2015
 I can still hear the rush of the waves caressing the sweet shores. The birds flying over the beautiful hawaiian skies as the sun sinks beneath them.
  The feeling of the summer warmth still heating my sun kissed skin in the coldest of winters; My toes are still in the sand, as I feel the breeze of the cool air blow through my hair making it flow over my shoulders.
  I still see the red dirt roads , and imagine myself as a keiki riding my bike down the country side. Then envisioning my uncles with their ukuleles' as they sing away. I miss those days.
   They say you can take the girl from the island, but not the island from the girl. They were right, because the island lives within me, although i may be a thousand miles across the sea, but my heart still lays in the little rock.
   I still smell the food as the family gets together , the smell of the freshly baked bread. The smokw on the grill, as they make the teryaki hamburgers and hot dogs. The taste of the poi still lingers, and the sound of the family singing kareoke.
  The feeling of the green grass , as i sat under the coconut trees. I remember the stars , They were the only light I ever had at night. Counting each one by one then having to start all over again, because i got lost in translation.
  I miss my Hawaii its more than home , its my heart , my love , me. Aloha ia oe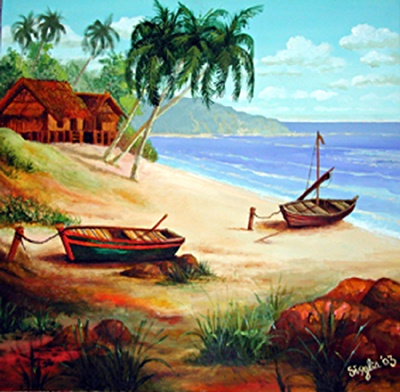 © Sisylia O., Surabaya, Indonesia