The Aging Photo
MAG
October 12, 2015
The aging photo in the frame
Rests hanging upon the wall
Like the others, seems the same
Yet different from them all.
In other photos, life stands still
Waves frozen along the shore
And every picture waits until
Their story's told no more.
They wait until forgotten there
Lining the length of the hall
Slowly each one, pair by pair
Left abandoned on their wall.
And yet this photo, left alone
Forsaken in days of yore
It holds the memory, now unknown
Of those who lived before
This picture holds the life of trees
Found printed on the page
The life of blowing wind and seas
Now long forgotten by age.
The image holds the unseen faces
Of two, together, paired
Before the scars of separate places
Tore the love they shared.
And in this picture, those that knew
They must so say good-bye
Are forever printed, together as two
Staring out toward the sky.
Time ticked by, the pendulum swung
And their distance between grew vast
Upon the wall, the photo hung
Recalling those days of past.
Beheld this image, of skies so gray
The aging photo in the frame
Though far apart, it's here that they
Will always, together, remain.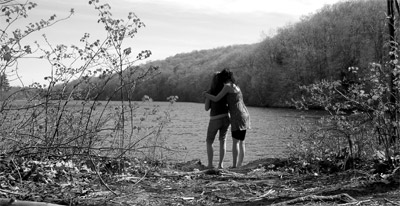 © Paige B., Woonsocket, RI