1960s Ultra Violet
MAG
August 11, 2015
She was lost in a tangerine daydream when bullets ruptured
her bronze crust like salt and pepper
cannon balls tearing through crystal water.
She was Vulpine Voluptuous,
bleeding an explosion
of purple lipstick and licorice.
Wafting from her wasted overcoat
sad cherry blossom perfume. Her eyes infinitely glazed
like gold pocketwatches paralyzed in honey.
She was '60s sexed up.
Lonelier than a cheap champagne kiss,
living an unheard echo of a long lost rebellion.
Back when art was graffiti bullet holes and splatters of jazz.
Rock and roll underground bohemia,
chromatic carnage challenging everything until
Emptiness was outlawed with profound psychedelia.
She was Candid Corporeal and Unblinking,
silhouetted spectators gawked nervously at veins
that pumped sappy sugar plum nightmares like back when … all that.
Turning their eyes inside out, and dissolving like chalk
In milk clouds. Terrified of gazing unheeded into strips of pure wind,
and seeing clowns laugh truer than shadows.
Cowering like knuckle-white spiders in mossy dark forests,
Fearful that fleeting humanness would blotch
Polished picture frame heroes, unblinking in their happiness.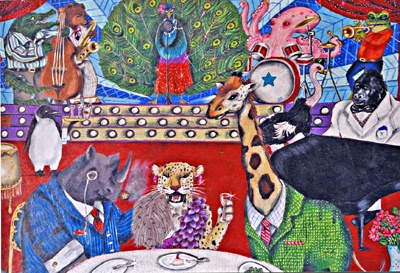 © Jacob S., Kannapolis, NC