the repetition of two times two
MAG
January 25, 2009
the repetition of two times two –
you whispered against the grain of
sodden cardboard water:
as if it unlocked volumes of verse.

if you stayed and waited for the
ink to print on your calloused fingers,
I stop in reluctant, pushing glasses
up the acute angle of my nose.

what kind of teacher (the best –
the most visionary kind) would
lie to her students? Hopeful
illegible writing veers the inside
and paints my eyes shut.

if I penned the archaic,
imperial formula in the margins of
bleak paper, their faces,
scarred and hopeful
(in a row, with tall texts the sentry

at the wall and brink) of knowledge.
it is all a game, i promise.
wilted cigarettes press on the
lines of rhyme – syntax

(she answers
small circles of uncertainty
A
B
C
B
A)

like translucent flowers:
an unrecognizable gift.
so this is where the poets die:
in books and brittle papers.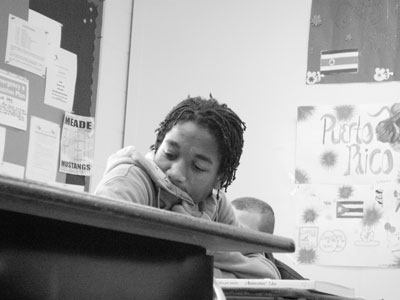 © Demetrius A., Ft. Meade, MD