Reasons Why It's Hard to Call
MAG
July 2, 2015
Look, you're
too cute for words.
Too easy to please,
too hard to appease
Too hot
too cool
Too embarrassing
for school
Too much awkward
too much drama
too much headache
too much llama (what?)
too much honey I can't see
why you'd do that to me
too much you too much me too much for me
Too unnecessary.
Too cowardly.
To like you so much
my chest aches
(but maybe that's my asthma, or a panic attack coming on).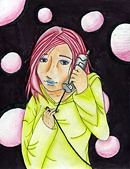 © Emily M., Milford, CT