Jackknife Apt. #308
MAG
June 26, 2015
They said this place would never last. They said it was built
in the wrong neighborhood, with the wrong floor plan,
so in the morning all the sunlight warms the brick,
and all the windows are pointing west.
There are stains on the carpet in every room
which mark the closing acts of old owners,
legends of cowboys and magicians,
stories of fantastic duels and car-jackings,
an old rumor of a man who was knifed and
burned to death in your bedroom.
You are the only daughter here and you hate it,
but your eyes are everywhere in this floating wreckage.
You are the wrecking ball swinging dangerously close to the tower,
the man muttering to himself as he dangles his feet over the edge,
the Olympic diver somersaulting off the north-side windowsill,
whose body pierces the gasoline-drunk asphalt like a jackknife;
You are the woman in the phone booth two blocks away,
spilling quarters from her teeth for a taste of whimsy,
the soldier who dials 9-1-1 for a chance to speak with God,
whose lungs fill with a thousand tiny filaments before he can open his mouth;
You are the prisoner in the basement of this place,
who spends his nights spinning fool's gold from the blisters between his knuckles,
who knows how to kill a cockroach three ways but can't remember his first name,
the three-legged dog slinking down the steps to greet the only man who sees him;
Don't you see your fingerprints on these windows?
Don't you see your Sharpie-marker years on these walls?
Don't you know this place is yours?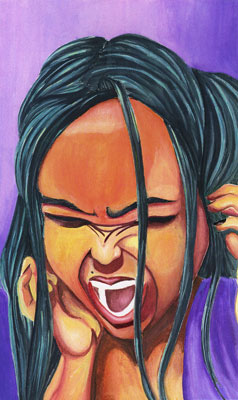 © Kriztille J., Briarwood, NY