Collision
MAG
June 8, 2015
I remember the colors:
crimson dancing with electric blue;
every shade in between expanding
like ink petals blooming in water.
(Such a psychedelic consommé it was)
Rich mauve seeps out;
melts into rivulets of deepening ocher,
branching into skeletal fingers that
reach toward me.
Sunshine
(her favorite)
of a freshly concave metal surface
speckled with scarlet
glinting in the evening light
Her breath flows in webs of smoke
and spirit.
It's beautiful to look at
the way the waning sunlight lights
her hair in embers
The way the green in her eyes greets
the blue of the sky
And I saw my reflection in the glassy
surface.
Mauve keeps flowing
over her scarlet head,
enveloping her in effervescence
and her blue-jeaned legs sigh and embrace the glittering cement
I stood there
eyes chasing her shadow as it shrank
with the sun
Orbs of light flashed in the corners of
my eye and
unfamiliar frequencies greeted my ears
and I still see her but
all I can remember now is the colors.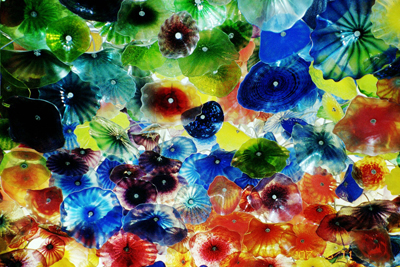 © Shawn P., Las Cruces, NM