I bleed poetry
MAG
June 15, 2015
After you left,
I've been asked why I don't
turn to the blade and
let my insides flow out of my body
until I pass out.
I tell them that I can no longer be that once-weak girl
who struggled not to wince when hearing the word
beautiful.
I have found courage in the sharp spindles I snipe
with my alliterations
and the wounds I've left on your reputation
with my metaphors.
There is nothing silly about a simile
and how ironic that you said poetry
was for children and yet when I shot poetic bullets from my tongue
I brought you down on your knees,
tears streaming down your face,
crying "how could you?"
I guess you were right when you said
poetry speaks to children:
after all, you treated me like
a child who was meant to be put up for adoption.
But if my words shattered your world, then doesn't that make you the child?
"Pain is weakness leaving the body," you told me
when you injured yourself
playing a game you were never recognized for.
I guess I did you a favor by hurting you.
So when you called me, crying, because you couldn't fall asleep
with all the monsters I brought back to life dancing through your mind,
I let you apologize for the demons you once haunted me with.
As I bleed these words from my pen,
I am no longer that weak schoolgirl who could
never win a fight on your playground.
As I bleed poetry, I am strong.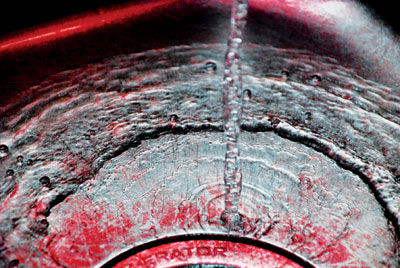 © Hannah B., Princeton, IL