Burning the Word of God
MAG
February 10, 2015
In one hand I have my passport
and in the other is God's exclaimed word
and I cannot hold both much longer.
Blue pages will give me golden peaches and amber apples;
the other is a gamble
but if it pays off, diamond pears await.
But frankly, white fruit is an acquired taste
and my genes can't acquire something so bitter;
my intestines reject it like vinegar.
So my happy medium is a pearlescent pomegranate
which lucifer's little brother offers in his manicured palm,
and I'm fenced in by eternity, christ's sweet mistress.
But once a year, when nature's sighs climax
and peaks are white and ice drips down saddles into valleys,
eternity creaks open and ushers out me with my kin, and we go wandering relishing the imperfections nonexistent in a palace carved without mistakes, statues for the clergy.
The seventy and the seven guard menageries,
but my kin traverse the wild
and cry when harpy eagles fall from babylon nests, their siblings reaching for god.
I choose my passport, my pomegranate,
and burn the word of god.
I'd rather have his handiwork than his rhetoric.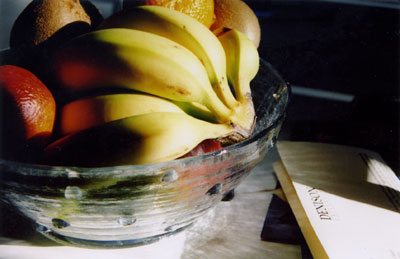 © Marty H., Bethesda, MD