More Than Matter
MAG
January 26, 2015
My body
is not a single noun
with a five-line definition
on page 128
in Webster's Dictionary.
I am not a reflection
in the mirror.
I am a flawed portrait,
a mysterious Mona Lisa
with sliced-up lips
and hair turning into ivory ash.
My skin is not stretched
over frail bones
that are ready to break
like an abandoned jungle gym in blowing wind.
I am a physical map
of soft dips
leading into valleys
with green-brown grass.
My body is not a shell
and my milky white ribs
do not form a cage with a steel lock
but rather a safe house
for my heart to escape.
I am not a sack of matter
divided and dissected
into hair, skin, eyes, organs, cells, atoms, subatomic particles.
I am not a broken cardboard box of
mismatched puzzle pieces
superglued together
pretending to create
a beautiful picture.
And my veins are waterfalls
raining over a sea
of safety vests and life boats
helping my blood travel to my heart.
My body is not just thin skin
stretched over frail bones.
I'm not a glaring reflection
or a weak sack of matter.
I am not a physical structure
or a shell.
I am not four letters
and two syllables.
I am not a simple noun.
I will never be a simple noun.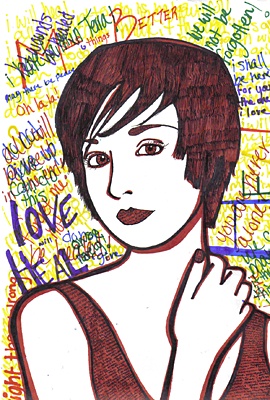 © Sara D., Aiken, SC