Shake
MAG
January 12, 2015
I am partial to poems about
hazy dreams, putting a face
to names of distant family.
Also the way fog rolls across
cracked streets and pools around
sighing tires,
eyes searching for the swimming
street sign.
Stained glass on Sunday mornings
creates a similar confusion.
Even the trickling light
cascades blurred mosaics on
the peeling pews …
simplicities like this lost in a world where
phones and money conquer
words and love and just
listening to the foam from
lapping waves
fizzle out.
Try mishap Polaroids, rippled puddles,
looking into an unfocused telescope –
although I only have once –
bundled in blankets on a clear
September night
when I was five.
Treading below the lake's surface,
I open my eyes to the quiet
dullness, barely able to make out
my open hands and the bubbles
racing to smooth air.
My legs swing over the rocky drop,
eyes fixed on the sun's deep glow across
licking waves.
Orange is lazily woven into the
ripples, illuminating scattered stars,
peeking through a silk
curtain.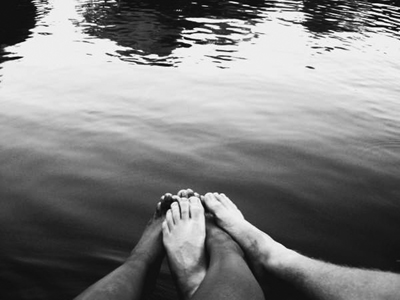 © Michelle W., Ada, MI