Immune
December 24, 2014
I am weak,
and I need strength.
but not the kind,
nor the warmth.
I don't need beauty,
nor the sweet.
nor the silk,
nor the lies.
They all are sweetened powders,
curses in disguise
delivered, and spoon-fed,
into the mouth with ulterior pride.

Comforts sprinkle my soul
with lukewarm air,
threading from humble soil up high,
a balloon, worming towards the sky
spraying rivers of rainbow ribbons.
Scented vapor diffuses,
into waxy nooks and crannies,
Coaxing, melting, weakening, thinning
the haven gates of my soul, grinning.

An exhilarating trip up high they give,
but rudely interrupted,
with a sudden lurch, wide-eyed
down creaky coaster tracks that live
to bring the floor to scar your face,
with a slap, they jerk your head up,
up to other balloons and ascending
coaster tracks threaded with lace;
stairs lead to a painted mural
of heaven's ajar and beautiful door…
No, I don't want to be caught
in this beautiful oscillating cycle,
anymore.

I want icy-hot lumps of iron,
branded across my heart,
I want sharp plunges of pins and needles,
piercing every pore of my scalp.
I want rumbling boulders,
kneading into my chest,
slamming, twirling, twisting, kicking,
the dough between my shoulders.

As I try to grapple
with steep mountain walls,
I want to grasp, not graze,
clench not claw,
the pensive sapphire dome.
as I stare down the towers,
I will climb up and reach the peaks;
nothing to help me,
nothing to pull me,
only weights to hold me down.

So when the boulders roll on
down in-to the chasm,
when the knife wounds heal
and hide under the calluses,
when the scalding frostbite iron
melts away from my skin…..
I am stronger,
I am enduring,
and finally,
I am immune.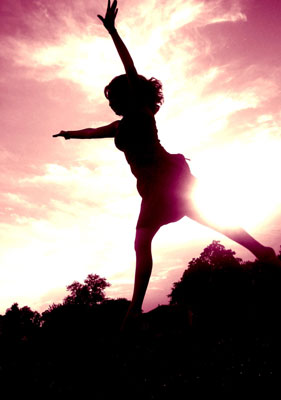 © Martha V., Morton Grove, IL