Coursed Veins
MAG
December 3, 2014
If it's Tuesday night
and Calculus homework is shining red flashes on your skin
But the tear ducts in your eyes
cannot seem to comprehend
Anything but tissues and coursed breathing
Do not stop.
Put down those goddamn tissues, and rub those salted tears
on skin that smells of lavender
Rub off that orange mask and waterproof eyeliner
Drown yourself in salted skin and rooftop fetishes, not in him.
Chilled air will dry you out.
But remember, it can help you breathe again.
So for however long you need, on suburban rooftops with only streetlights to guide and remind you,
the deepness in your lungs and the loss of feeling due to bare skin
Will strip you of suburban legends, and a human will be reborn.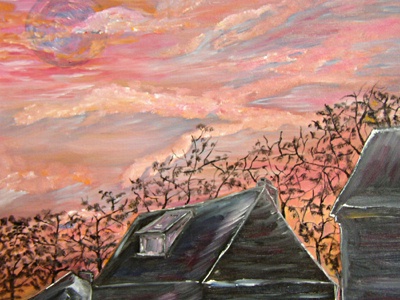 © Lauren M., Scotch Plains, NJ