Slice
MAG
December 3, 2014
Miss Scissor Blade Slice,
you scare the living daylights
out of me.
You
write to me about myself,
describing to me my own
paper heart, then you
tear it
a little
every time you stare at someone else.
Miss Ink Blotch Black Spot,
you lift me up into the sky
and drop me,
let me jump,
and leave me there 'til next time.
Miss Soft Grunge Social,
you flutter your wings against mine
in pretty words in ink.
You see, I've always ridden
on your wings:
blue high sky wide
soaring above my trough,
but I can fly now!
Miss Cracked Mirror View,
I like my view better.
But I think we
need each other
to fly swifter circles in the sky
and to compare notes.
Hold my hand,
but don't get too close –
I'm burning out
and you're liquid.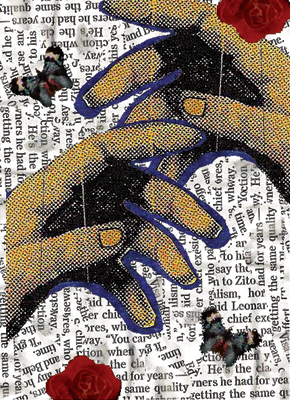 © Christine S., Arlington, VA