House of Me
December 9, 2014
The house has walls built from silence,
Filled with holes and cracks
That ooze abandoned dreams.
Stands alone in fields of memory.
Lights left on elect the pretense of poise.
Attic filled with clutter,
Pile atop pile of joys hidden, swept under the carpet,
Questioning, wondering if any of it's worth it.
My attic head is too heavy for my feeble neck, never free
Of the rummage weighing me down.
Foundation worn away, pieces chipping off, crumbling
Like my soul,
No longer a strong base that holds up the wooden frames.
My feet too weak to prop up these frail beams;
These splintering bones.
The bathroom sinks weep, handles long to be turned,
Floors are flooded with fantasies, slipping between tile cracks
Like water flowing through grated tubs.
Windows are barred, webs hung like garlands,
Sills adorned with thorns.
Blinds not brave enough to face the world;
     To open my eyes.
Door always latched, the key lost - hidden,
Back gate locked in rust,
     Entrance forbidden.
Force doesn't shift these hardened bolts,
As much as I try, they do not unlock.
Glass-pane mirrors on the walls,
Reflecting, distorting perceptions, pictures clear
Like the thick, syrupy fog that lines the halls.
Hidden, but delicate and unproteced.
Easily shattered,
This nonexistent heart.
This house of me that weeps but no one sees;
The outside decieved the eye.
The house of me that neighbors none,
A debt of dues unpaid.
This house of me;
     This house is me.
          I'm slowly falling apart.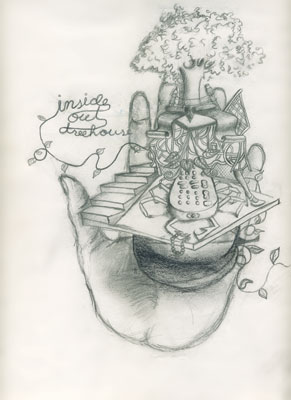 © Moselle S., Le Claire, IA