Oh Distant Rumble
November 15, 2014
Oh distant rumble, way off yonder, Your quakes have quelled deep sorrow within us. As You approach, on steady feet, man grows fearful of Your message. In Your cold hands, You bring us Your tears, as it leaks down in vast drops from the cup You have made. With each breath You take and release, a cold wind ominously creeps and withdraws onto and from us, and further reminds man of Your presence. As our dear sky darkens as black as slate and as Your call grows ever louder, we cannot help but cower at Your presence. 
With Your tears, You had sated this land of thirst, and with that chilled breath, You once cooled this land. But, now we see what man doesn't recognize. No, Your presence is no good; You drown our crops, You destroy what little we have, You raze all that is in Your path, and for what? No, Your disguise diminishes as we catch on to Your plot.
Leave now, Tempest. Perhaps when this land needed You most You resolved it's seemingly infinite appetite, but now, Your actions here are a crime to this place. Gather Your bolts, silence Your deep laughs, quell Your breath of destruction, and cry no more. Your burden has punished us for far too long, and Your healing powers have hindered a place that once held promise.
Oh distant rumble, oh so near us now, we welcome you no more.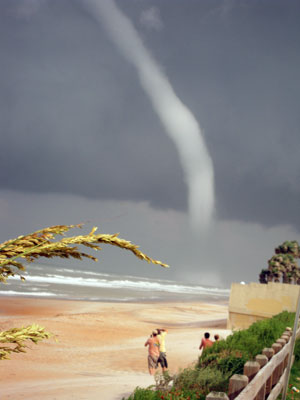 © Chris G., Phoenix, AZ