The 5 Loves
July 27, 2014
the 5 loves.

Who (the broken record stuck playing over and over again)

the tender words
the soothing touch
the arm draped over my waist
the private glances
the hidden smiles
and memories dusty in closets in my brain.

What (I cried losing)

was the boy with his guitar singing to the moon
about flavors of grace
and views worth standing for
who wanted to know what flowers I liked
and asked permission before planting the most beautiful, gentle, warm kiss on my lips
who felt perfect held against my body, as I squeezed him like the world was ending
because the one I created with him was

When (for fireworks, for painkillers)

I couldn't tell you Lonely
because I felt so full
defended by the innocence of youth
chasing the spark of adventure
marking each first.

[but then,
the walk back memory road inside one's private mind
driven by the ache for somebody to hold at night
to help block the racing thoughts
and kill the cold in the bedsheets.]

Where (in magic)

the sweet air of Virginia
away from the rest of me and the rest of you
in the rain
surrounded by stars
inside the snow globe
holding me and you.

Why (because he made me lucky)

I would have told him everything
and I did
he opened up the heart he swears
he never had
and showed me everything inside
oh, the feeling of a caring friend, a trusted friend
I was his change for the better
and he was my Narnia
he was willing devotion
when I was uncertain of committing
and even our fading was graceful
because we never did disappear, just lingered.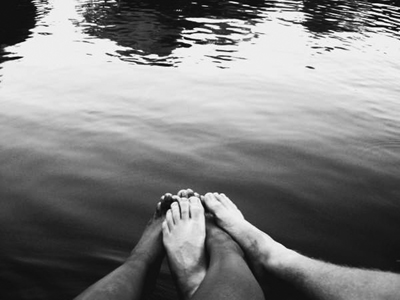 © Michelle W., Ada, MI