Astraea
June 30, 2014
If I could reach the sky
I would gather the teardrops of the heavens
And string them into a necklace of pure light.
Shimmering far above, their luminescence inspires,
But nestled between your collarbones
In that constellation of freckles,
They would hold the embers of passion,
Fiery sparks barely contained by lifeless stone,
That could reawaken hope from its dying throes
And vanquish the infinite obscurity and shadows
That encompass the souls of those who spurn the light,
Cleansing the earth of all calamity and vice.

With the turn of sun and moon,
They are but fickle symbols,
Flitting in and out of existence;
But enveloped in your essence,
Absorbed into your very being
As only befits the purest of starlit queens,
The light of days long gone
Would never diminish,
Would never extinguish;
But live on eternally in the surreal sparkle of your smile,
The crystal toned lightness of your laugh,
The blazing sunrise of your hair,
And in the glistening cerulean oceans
That reflect my own bashful, star struck eyes.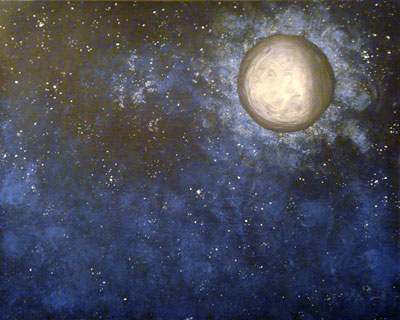 © Allison H., Vancouver, WA