Next Week
June 10, 2014
Put down your sharp knives and heavy fists and listen.
Next week I will not wake up in a corner with blue and purple flowers blooming on my skin,
you will not wake up with powder coating your nostrils, bleeding knuckles, and dirty needles hanging out of your arm.
You will not wake up falling from a cloud
or below the deep depths of Hell
and choose to relieve your pain with me
or another girl who wakes up in the bathtub with a dry throat that aches and a mouth that tastes like something stale.
I will not wake up in the closet, the only door that locks in this piece-of-crap apartment
Without money so we can't-afford-a-meal
And on the bad side of town, because you won't get a job because-you- and I keep getting fired
for not showing up
Too bad they don't know that you lock me in the bedroom
with the spilled drinks and sticky floor.
You will not wake up with the shotgun in your hand, guarding the door so I can't get out.
Too bad the police don't ever check the tidy door with the doormat instead of checking the place next door with the hole in the wall where the nice couple live with their baby. They are poor but they aren't messed up like we are.
We are spinning round and round on our carousel of Hell
and the only way to get off is to swallow a handful of pills or arrange a meeting with a bullet and our brain like I did.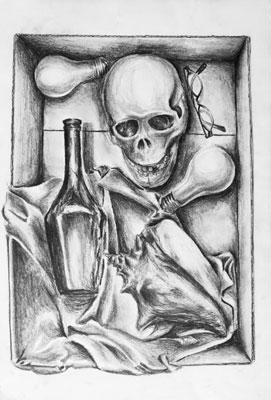 © Karen S., Norwalk, CT