13 Ways to Leave Someone Behind
June 7, 2014
I.

Take a step back.
Sometimes,
it's better to see the situation
from someone else's
point of view.
Analyze it.
Think it through.
Then leave.
II.
Cry.
Let the tears flow down your face
in a torrent of uncontrollable
sadness.
Cry
until your eyes are
red
and puffy
and you have nowhere else to put your tissues
and you can no longer breathe.
Then leave.
III.
Remember.
Think of all the great times you had.
Think of when you walked in the park
or went to dinner
or just talked
and talked.
Remember how happy you were
and how you never wanted it to end.
Then leave.
IV.
Say goodbye.
Go to them.
Tell them that you will miss them.
Tell them that you will remember them.
Tell them that you will keep them in your heart.
Then leave.
V.
Don't say goodbye.
Take the easy way out.
Don't email them.
Don't call them.
Don't go looking for them
so you can say goodbye.
Then leave.
VI.
Dance
or run
of play in the rain
to take your mind off of them.
Then leave.
VII.
Wallow in your sadness.
Sink into a pit of despair.
Because
dancing
or running
or playing in the rain
reminded you of them.
VIII.
Escape quickly.
Run away
and escape the memories
and escape the person.
Then leave.
IX.
Prolong it.
Draw it out.
Treasure the time you have left.
Expand it.
Fill it with things you will never forget.
Then leave.
X.
Have courage.
Take the leap of faith
that everything will turn out alright.
Know that
everything will be okay in the end.
Know that
you will get over it one day.
Then leave.
XI.

Be a wimp.
Be afraid that you won't
turn out okay.
Be scared that your life
will crumble and shatter.
Freak out and wonder
if you will ever have the
strength to actually
depart.
Then leave.
XII.
Know that it's okay to
have doubts.
And it's okay
to worry.
Wonder how you have ever
made a decision before.
Because making a decision
now feels like the hardest thing
in the universe.
Decide that you can do it.
Then leave.

XIII.
Don't think of options like I have.
Don't think of scenarios like I have.
Then leave.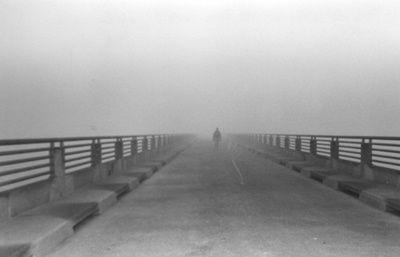 © Becky G., Westerville, OH