Creaking Bones
June 3, 2014
My father wasn't always strong.
When I was six, his sleepovers at the hospital
became so frequent,
we forgot mommy's bed was meant for two.
It became routine to go visit him
at the hospital after school.
We brought spaghetti and meatballs, his favorite meal.
But most days, he would only lick his fork.
We told him stories of teeth falling and birthday parties.
He always had a new joke for us.
I don't know where he got them from,
maybe he made them up
during all those bitter hours staring at white walls.
I heard the creaking of his bones when I lay my head
in his chest, and the sound woke me up every night for years after.
Once, in the secret of a night
when I waddled into mommy's room after a nightmare,
I caught her trying to carve wings
into the spaces between her shoulder blades.
On the days father slept, my brother went fishing.
Gutting fish after fish after fish,
as if he'd find the dad we thought would never break.
The dad with caramel skin
and the smell of salty wind trapped in his hair
who had been so brutally taken from us.
And now could only watch us grow older without him.
He said once: A tree must learn to accept
that there is a world it cannot see.
This life has turned me into a tree and the only reason
I am still standing is so you can lean on my trunk.
My father wasn't always strong.
But in a life with a mother that
dressed in red to pretend she was still alive,
he never stopped being my support.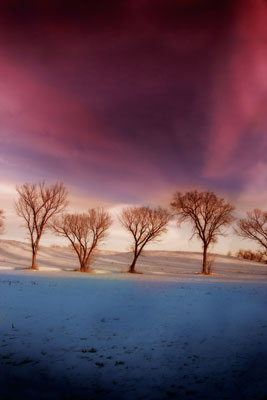 © Elizabeth H., San Bernardino, CA