Flightless
May 13, 2014
the wingless birds are coming down tonight,
emerging from the eyes of the colorblind.
the warmth of color is what they are looking to find,
but in time,
the heat of dejection goes cold,
now my warm voice makes me feel bold,
but often times,
the iciness in my incisiveness is just noise.
And I know a dime can't speak by choice,
It needs nickels and quarters
to give it a voice.


if making my final climb a smile worthwhile
involves the denial of other's trials,
and if this smile is not a call to me,
but a fall to others,
then I'm better off not leaving the ground at all.
And maybe sometimes,
we all just feel flightless,
feeling the clouds try to fight us,
knowing the sun isn't it's brightest.
I will stay grounded,
or at least i will try
keeping my feet soundly planted
until my roots dig down and die
I will catch those who fall from the sky.


You know I've heard many things,
my ear's windy strings
are played every time the clouds sing,
The grass tickles my knees
and it begins to tease me
The trees seem to sway in horror
This song grows much colder,
and the ground so much closer,
but there sits a girl on a boulder
shivering, asking the rock to hold her
maybe the dirt off my shoulders
will finally show her,
And perhaps I should've just told her
That we're all are born with wings,
but they are left forsaken,
we forget what we are given,
and deeply miss what's been taken.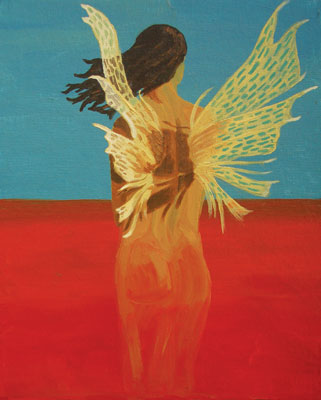 © Allison F., Langhorne, PA