She Makes Me Breathless
May 9, 2014
Let me ask you something.
If you had a chance at finding love, would you chase it or let it go?
Would you send a dozen doves at her door if it meant she would notice you,
or would you try and forget her smile out of the fear of being denied?

Well...you could call me Fido because i'm chasing after this girl
and I'm doing back flips to catch her attention.

I'm running as fast as I can in the hamster ball she holds in her hand,
just so she can feel my love for her spin against her skin.

She's got my fascination by the neck,
and I'm stretching just to see one last glance-
she's walking towards her future and I'm praying to sprout wings and a beak just so I can fly above her head.

I dream about being the butterfly that flutters past her,
just so I can turn around and bring a whole new meaning to a butterfly kiss.

I want to be the goldfish she named flipper
just so I know she'll have to come to feed me
and even if she doesn't it still means she has to flush me down the toilet when I go-
which to me would be the most honorable death in the world.

I want to be the bumble bee she sees admiring her flowers,
just so I can buzz to something close to her.
I want to be every stone she kicks because that means shes pushing me forward
into the direction she's going.

I want her to see me and pick me up, even if i'm just quartz.

I want to be the rain that drops directly on the center of her nose
just so I can see her jump from my touch-

I want to be the air she breathes, because she makes me breathless.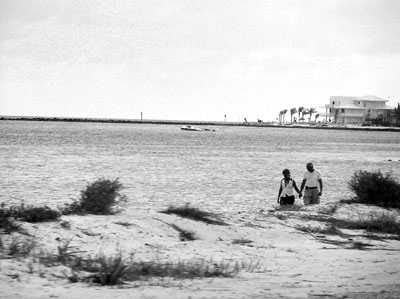 © Edgard B., Coral Springs, FL