Extraordinary
May 6, 2014
She never looks at the mirror anymore,
afraid of what she might find.
Her eyes quickly avert
any reflections of her body.
She never feels comfortable anymore,
hiding in baggy pants and
shirts too large for her,
so that no one can see what's underneath.

Because somewhere along the way
she gave in to the oppressing images
of thigh gaps and flat stomachs.
The girl that was once so secure and proud
now lost in the swarms of media
screaming the measure and shape of "perfect".
Everywhere, like mosquitoes buzzing in her ear at night,
reminding her she is not
the definition of beauty.

But she doesn't know
that there is no shape for extraordinary.
She doesn't know that
her voice turns to melodies of inspiration
when she speaks the truth.
And that her eyes are beautiful
when they look up at the stars.
She isn't perfect
but no one ever is,
and the beauty of life is to realize
that we are all made of strength and struggle.
She doesn't realize
that she has a goal, an opinion,
and nothing can make her
more extraordinary
than that.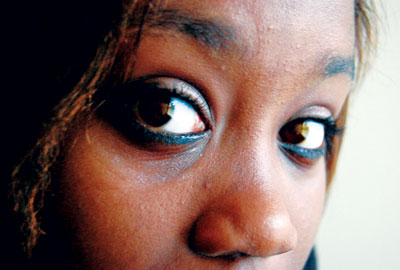 © Kayla C., Burlington, NC