First Impressions
May 6, 2014
I see a boy wearing a gray shirt with music notes on it
I wonder, does he see the music in the world around him
Does he hear a symphony in the insects' song at night?
Does he listen to the voice of others and wonder
What would they sound like if they sang my favorite song
I see another boy with a black shirt and gold lettering.
University of Missouri
The Mizzou tigers
A popular choice among my school mates
I wonder, did he always know that's where he wants to go
When he was a little boy, did he crawl onto the couch and catch the game
With his dad?
There's a girl
She's wearing a black dress with an evenly spaced design of flowers.
It's a pretty dress, I'll admit.
I ask myself, does she stop in the street
When she sees a dandelion growing in the middle of the pavement
Does a garden full of roses matching the ones wearing her dress
Make her stop and stare
Does she stop to smell the roses?
There's another boy.
He's wearing a light sky blue shirt with orange outlines
On the back there's a listing of companies that probably
Sponsored the event on his front.
Did he participate in this event, I wonder?
I can't read it, he's moving too fast.
But still, did he believe in the cause?
Did the details keep him up at night
Or does he just wear the shirt because it's something to wear.
Here's another.
He has a bronze cross around his neck
It's kind of ironic because I don't even know if he's a Christian.
And if he is, does the immorality of this world make him beg and cry at night.
Does he listen to songs by Christian music in his car
Or is the cross just merely an accessory?
Just an ornament on his neck to fill the empty space.
There's another girl.
She has short brown hair, flipping up at the ends.
Did she mean to do that? I muse?
She's wearing a blue v-neck and white shorts
The school colors are blue and white.
Did she know that when picking out the outfit
Was it a subtle way to say she's proud of her school?
There's a boy in the back, near the teacher's desk.
Green shirt, green shoes.
I suspect he does this oftenly, matching.
A corner of my mouth turns up
You don't see guys who try all that often.
It's a refreshing change
And green is my favorite color
What would you wear if you knew someone like me was watching
And deducing.
Would you wear a cross around your neck
To symbolize a religion you didn't believe in
Would you were a shirt to event
That you didn't even go to
Would you match your shirt with your shoes,
Just for fun
What if what you were wearing now
Was someone's first impression of you
What would they see?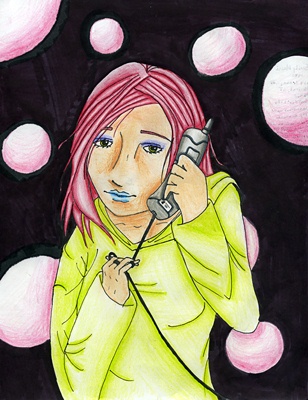 © Emily M., Milford, CT