Sideways
April 23, 2014
All of this warmth and sunshine is so new to me
Where clouded dreams of sleeping soundly
surrounded and secluded me.
dreams of dreary shade have enveloped my days,
I watch as all my flowering friends are taken away.
The storm has turned the garden to a grave
and I am a surviving flower sitting sideways.

My impediment is earthly,
a worldly inability to achieve compatibility,
so I am less alone in the clouds than among all this company,
perhaps because i know this wind can't run from me.
Sideways, begging the tree's roots to come to me,
Sideways, asking the wind to blow some love in me,
but I know all these regimental elements, are just precisely the sum of me.

I am a flower with a predisposition
to never position myself
but still allow my dazed petals to listen,
my tattered stormy stems wage a war of contradiction,
and counting my blessings has become an addiction.

my petals know contentedness will always be obscure,
and every time the sun rises, somebody's darkness is cured.
my stems begin to scrape the ground,
and my petals drown out in the loudness of the clouds,

sideways, surrounded and breached by sounds that are unclear,
waiting for someone to come and teach a sideways flower to hear.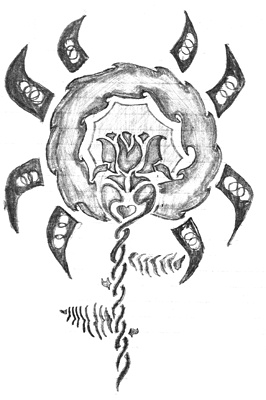 © Eric S., Platte City, MO