Freckled
MAG
April 12, 2014
My first kiss
was the sunrise,
arching its knees
on the boughs of the earth
to greet my lips with
golden passion
and pastel rays,
like the inside of a seashell,
or the fuzz of a
not-quite-ready peach.
It kissed and pecked
each cheek.
Each shoulder.
A dozen times.
Each freckle a promise
that it would be back shortly
and rise to find my lips again …
and again, and again
'round my collarbone,
like a strand of burnt pearls
dangling from my skin.
Courting jewels.
Or cursed reminders of
my only love.
The sunrise leaves me restless;
these marks whisper to me through
the night,
"Wake, girl!"
"Watch your window."
"Greet your love as faithfully as he rises
for you."
My last kiss will be
the sunrise.
For I stubbornly refuse
to die
under those distant stars
when my love is simply 'round
the other side,
waiting to greet my freckled skin.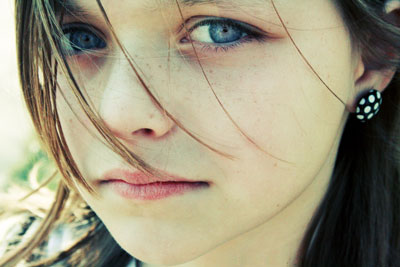 © Felicia R., Arlington Heights, IL