Down the Rabbit Hole
April 3, 2014
Falling down a hole, I can't catch myself.
Everything but me is going up,
How do I stop?
This is Alice's nightmare,
With no white rabbit to show her the way.
A deck of cards goes flying past,
Their hands tear at my hair and clothes;
When will this stop?
This is Alice's world, not mine,
And I have no Eat Me or Drink Me to help me along the way.
The Mad Hatter won't leave me alone.
The Doormouse won't wake up.
How do I get home?
The Red Queen wants my head,
The chess game seems to never end.
I can't seem to say anything right,
And I insult each piece of food at our feast.
The cards are back, and I can't stop spinning.
I need to wake up!
Alice's cat licks my face, and drops the Red Queen by my feet.
I'm home.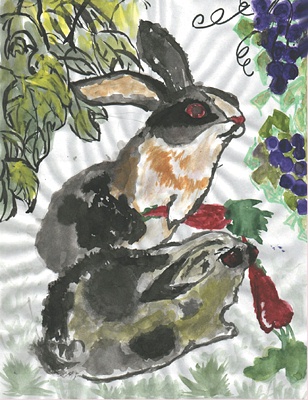 © Xin H., Elmont, NY