Feet.
March 31, 2014
Stealing a glance away could not be done.
Years of repetition allowed me to know what I could have been missing.
As she filled the stage with grace, there was one place I could not stop staring.
Not a care was given about her expression, the same plastered smile that captured a million.
To what tutu hung on her thin bones. To the bun. To the tiara. To the song which I fell in love, I do not remember.

The curve at the prettiest of elongated lines.
The strength. The foundation. The cherry on top.
Her strength being my weakness, I yearned to see more.
I yearned to love what I could not have. I yearned for work. I yearned for talent. I yearned for a miracle to happen.

Everyday that I slipped on pointe shoes and my feet did not look like Wendy Whelan's,
was a day not worth living.
Because why try if you won't be the best?
And if your feet don't bring tears to someone's eyes then why mess with the rest?

There's a common misconception about dancers that we worry about the prettiest details. The tutus. The buns. The tiaras.
But the ugly truth is just that. We're forced to worry about the ugly.
The over-worn feet. The injuries. The crazy from standing in front of a mirror eight hours a day.
Instead of asking me about my tutu, why not ask why I don't own a pair of flip flops? Why not ask why I hurt non-stop? Why not ask what joint exactly just popped?

To a dancer, the most important thing is her feet.
The power they bring to the floor cannot be beat.
So of all things that can be adored,
I'm the number one fan of Wendy Whelan's feet.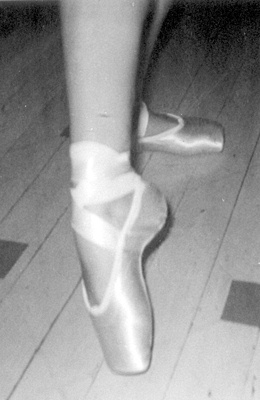 © Amelia B., Philadelphia,PA