Polaroid
March 24, 2014
He kept a small portrait of her with him at all times.
It was stuck in the worn, brown leather wallet
that she had given him as a Christmas present that year.
He took it out every now and then, allowing his eyes to study
the beauty of the polaroid for the hundredth time,
And he allowed his mind to reread the story
that had been written years ago,
before it ended abruptly.
As his eyes followed the line of her thin arm,
her dark skin showing the signs of long days in the sun.
Her dark, curling hair, falling loosely down her back.
A few curls that had gone astray remind him of the breeze that day,
and he can almost smell the ocean when he inhales.
When he sees her tiny hands, he remembers her gentle touch,
And the way her palms would sweat when she got nervous.
Her wide smile in the picture is really a laugh.
She had a loud, boisterous laugh, too great for someone so small.
But somehow it fit,
the way her small, delicate exterior
matched her enormous, selfless heart.
The same way she fit perfectly in his arms.
He loved her with his whole heart,
with every bone in his lonely, exhausted body.
She was the sea to his shore,
touching him lightly then slipping away.
And no matter what happened,
He would love the girl in that picture
long after the colors fade away.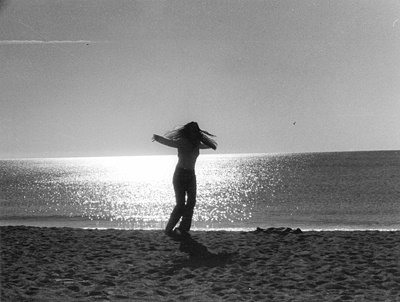 © Denise A., Marblehead, MA