Dragging Your Fingers
March 15, 2014
he fingers danced up the railing,
leaving patterns in the dust

A girl ponders taking her finger up
maybe it won't change anything at all
the same patterns weaving through and up the staircase and it's railing

The girl sees somebody she has bumped into a couple times
lift her fingers.

You see, the pattern weaving is tireless and neverending for the girl
and she saw how easy it could be for her to simply lift her fingers,
she thought about it again

and again
and again

and the desire to just stop running a sick and boring pattern in the dust
cornered her
and darkened every other pattern and finger trail

she couldn't decide
when and where to stop

she circle around an old trail,
a beautiful old trail
one made by light fingers
unlike her fat ugly thumbs
and she decided.

she took one finger off experimentally
and the crowds bump and pushed past her
asking why
asking why here
asking why now

and she lifted another finger

she could do it
break the already broken cycle
if she returned,
it wouldn't be the same, anyways.

She pulled another finger and another
till there was three remaining.

Three fingers.
People and their trails, still questioning,
still berating,
now judging,
pushed her past the edge.

Another finger.

two remaining in the dust. She dragged them into the dust, weaving in and out,
creating a familiar pattern
one last time.

and she took the last one off and it ended.
Everything.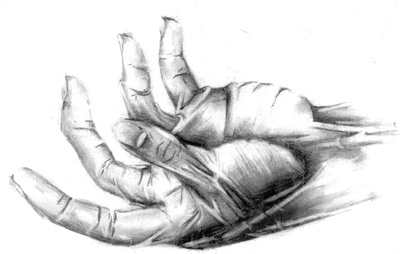 © Yisrawayl G., Philadelphia, PA