Adorned By Red
March 2, 2014
she's the same face from the mirror,
the same girl from childhood,
but she smiles seductively,
her bow lips glossed in red,
at the older boy and teases,
"i know you wanna kiss me."

all the while,
the girl he left behind cries out her doe eyes,
soaking my shoulder
like so many girls before
and i try to make sense of this game,
the one sister dear loves to play.

i listen to her giggle,
it's giddy and drunken,
yet she stays an honor student
while she strings along boys
and rules our school
with a velvet fist
and devious eyes,
keeping the dirty secrets locked away,
behind a coy, red coated smile that gloats,
"i'm ali and i'm fabulous."

warily,
i smile at her sashay down the hall,
our friends latch onto me,
so i say what she's drilled into my brain,
"hey, b****es"
she smiles proudly and they chorus back,
"hey, b****"
and the day turns to day,
her lazing around in red sneakers,
ignoring the older boy
we both know is smitten.

she knows that i know
exactly why she plays the game,
she knows that i know
how much she hates the reflection,
she knows that i know
that she won't let him kiss her,
she knows that i know
how much safer she feels
draped in red,
but neither of us know
why the hell that is.

i dread the day she stumbles home,
tears trailing her cheeks,
and whispers to me,
"hun, you're always better off running"
because she let the older boy kiss her
and smear the coat of red
but he didn't stop there,
despite her screams of protest,
and she falls asleep with a sob,
trembling in that red hoodie,
because in red,
she's dressed to lie,
lie, lie, lie again,
even if it kills her.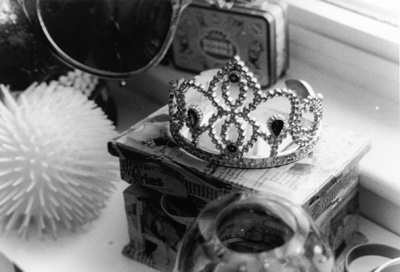 © Bayta R., Beverly, MA