Is this how you see God?
March 1, 2014
It's all one big game
An enormous game, horrifying in endeavor and origin
If it mattered in the grand scheme of all things
That's how we tricked ourselves

Galaxies, infinite, expanding into vast reaches of space and time
Yet finite because we can't imagine such grandeur
And so we picture another place just like ours
To delay death, our own
And humanity's increasing risk

We're an island so stranded
That the perfect, ever-sinking ocean
Cannot swell to greater proportion
In comparison to the teal blob Earth
a grain of sand, broken
Ground against the shifting, silt floor, scratched against others just like it
That's how we compare ourselves

Sunken eyes and hollow cheeks
ragged breath and palpitating heart
Wanting, needing, pleading
Is this how you see humanity?
It's how we willingly view ourselves
In the scheme of our tiny universe
We are dying

And this is how we should see ourselves
Because humanity's always been so self-important
This, really, is how we trick ourselves out of everything we fear most
We are, quite literally, nothing

Do you see
A human with glowing skin, lighting your way through the dark?
Or an area of cosmos brighter than ten suns
Living in the eternal light of day?
Or perhaps you see nothing, or everything

Shadowed eyes and grimy tears
The people we see who may not live to tomorrow
The best and worst of the game we all play
A meditative death, an eternal sleep
A flash of pain and blank eyes
Is this how you see God?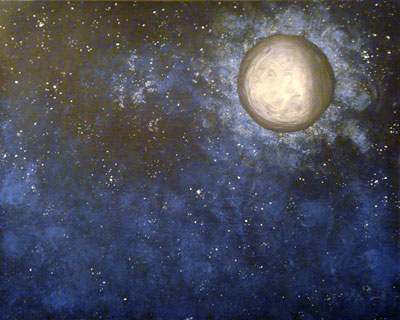 © Allison H., Vancouver, WA