One (A Battle in Purgatory)
February 21, 2014
I had a civil war. My side was wrong.

His tongue danced beautifully with mine.
Another's lips pressed like desperation.

I cry over my own body's battle scars, and I am split.
My spine wrenches upwards, arching like a too powerful, painful-as-hell orgasm.
I cry against myself like a soldier against his enemy,
Spurting acid, burning on my own red cheeks.

One is self-forbidden.
Another's kiss is so hard his teeth feel like a bite.

My addiction draws me backwards, my mind pulls me on.

First, freckles, sleepy eyes.
Second, hands, arms, warmth.

His eyes watch, full to the brim of emotion and half-understanding.
I can't spit the words out of my bleeding mouth.
I feel like I've kissed broken glass.

Kneading pillows between my fists
No sleep.
I keep myself up, trying to bleed relief from the psychological cuts in my wrists.
The opportunity to retreat will not be handed to me on a silver platter.
I want to take whatever I need to make myself disappear.
Loneliness and I become very well acquainted, mostly as she stands beside me in a crowd.

He has a body like a light bulb, glowing wherever he stands. His cheekbones are so sharp and sweet they cut through my pupils when I stare too long.

Where is the pause button? Where is my rewind? Where are my translators?
Where are my cartographers to my past, my therapists, my shoulders to cry on?
Where is an architect who can build me a new body to inhabit?
Where is the lockpick who can free me from my own perceived sin?
One laughs with his head thrown back, like he's showering the world with ecstasy.
The other seems like he is surprised by his own laughter, choking on it as it ripples and pops out, looking straight into my eyes as though he's bestowing a vulnerable gift to me.

I cry over my own body's war.
I am covered in battlescars, and the self-pity is overwhelming.
I feel tears like blood pumped from my heart. They stream continuously, mercilessly.
I cry wet, hacking sobs like cries for help, surrender, but nobody has ears that can hear them.
I am hungry, thirsty, a raving, craving lunatic-
Without the reminder that I have the ability to touch, I fall into the dark.
My long for intimacy crushes me under its weight.

He is a pistol, burning my fingers.
The other has no understanding of the power of sparks.

I should not allow my spirit to be torn in half, twisted on both sides, like my spinal cord is a bone being ripped apart by two dogs. But I do, and I am.
I am a child with hormones screwing with my sanity.

I remember far too clearly wanting him to f*** me.
I can see on his body the places I had touched covered in red paint, places I am no longer allowed.

I shiver and I tremble, but I am not cold. I am just trying desperately to release myself from my own skin. I come from a frozen core, from the indecision and the selfishness that threaten to climb and tear their way out of my vocal chords and through my throat, cascading onto my little world.
My problems persist, but I flee from one bleeding heart to another.

Still, somehow, I survive.
Crawling.
Somehow continuing.

One, who...
One…

I start to breathe. Every hour a little calmer, yet I keep crying over my battle scars.
I had a civil war, but I betrayed myself.

Just breathe. Let the wounds begin to heal, let the blood begin to dry.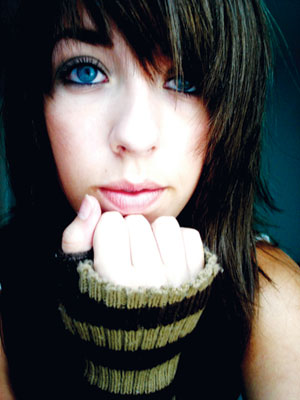 © Brit H., Peabody, MA