Playground Bombshells
February 21, 2014
They thought we were silly when we were younger, when our adrenaline rushes came from bouncing around corners, from carrying swords made of branches.
I watch on as my children play, as the news channels through my brain, repeating and repeating
My dark grey suit is unsuited to the warmth, my exposure to the sun unavoidable.

Their fighting is with bombs
Our fighting was with fists
Their fighting killed, maimed, broke hearts
Our fighting broke sticks, my doll's head crumpled beneath our feet.
War is a playground battle turned international, I decided, my eyes darting across from one kid to the other.
This is my children's battlefield- they love it.
I remember being like them.

I throw sand up into his face.
Bullets are crossing the sky, rocks like asteroids
Blistering hot sun rained down on us, burning all of our ears hot red
Burning white and yellow migraines in my skull.
I'm unfortunately in a dress, my father's foolish decision making
It's ill-suited to the battles I'm causing.
This is my battlefield- I love it. My war zone. My power play.
My armies are ready and waiting to ambush my enemies. On my command…I am invincible, my second in command standing by my side.
I protect my flag, which is sweeping high above the ramparts of my playground, swinging on a tree branch.
It's a conquered sweatshirt and string- none shall touch it but me.
There's no one but us...my father had wandered off, as he tends to. Where the rest of the adults had gone, I didn't know, but they had temporarily vanished.

We have a war.
We can do anything...anything...anything! What next, what next? Kicking up dirt, sand, rocks, branches, leaves, uprooting flowers, drunk with ecstasy, run through the heat migraine and out the other side, run through the dizziness. Freedom is glorious. I am free. I am a wild thing. I have escaped. I am God. I know all. I shook out my braids, crowning myself with a new hat of leaves and grass pulled out with their roots.
My second in command's mom shut it down. I fired him for mutiny.
I sit on a park bench in my suit. The day's news pulls its weary way through my head, as my children run.
My children captains...war heroes.
I feel a darkness pulling at my heart, a protectiveness, a brand new mystery to me.
I no longer feel the distinction between the horrors that are my adultness and the escape that was the little girl in the dress and the crown of weeds.
Is this my children escaping from the adult world now, or are they merely entering?
I cried on a park bench, the hot sun blistering my ears.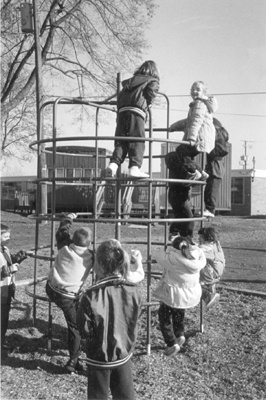 © Danielle H., Jonestown, PA