Come Back to Me
February 6, 2014
It's been a year without you now,
My heart yearns for your touch.
I want to see your face and eyes,
I don't remember much.

I want to hear your voice again,
Afraid I've forgotten the sound.
I want to dance with you once more,
We used to waltz around.

I'd rather you be here with me,
Than thousands of miles away.
I miss you so much that it hurts.
My heart breaks every day.

These shackles that keep us apart,
I pull, but they won't break.
Your job is what chains you there,
But it makes my soul ache.

The pain of longing jabs at me,
Sometimes I let it through.
I don't care how much hurt it takes,
If it gets me to you.

I don't care about the money,
Only about our time apart,
The only thing I need is you,
To stop the throbbing in my heart.

I don't need the big house,
Or all the clothes that I receive.
I just want you to be right here,
Standing next to me.

Please try to break through all your chains,
We can get back what we had.
Please, oh please, come back to me,
I love you so much, Dad.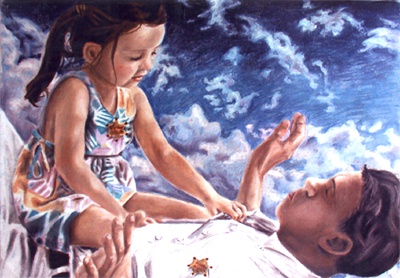 © Meg S., Andover, MA