Hidden
MAG
January 22, 2014
Footsteps of students pounding
In the stampede to the cafeteria above
our heads,
We sat under the staircase in the west wing,
Hidden in our own little corner of the school.

You pulled the gummy bears out of
your purse.
The foreign language on the package
confirmed
Your claims of their German origin.
(I decided against admitting I could find
The same brand in the candy aisle
Of any local convenience store because
It was a special gift nonetheless.)

The floor, solid and smooth, held us
Up from the earth below it. My head
Rested on the steel window pane
While yours lay right under,
Not high enough to touch.

And as we turned to lock eyes in unison,
Like we had done so many times before, we
Both grinned, attempting to suppress
Giggles we both felt rising in our stomachs.

But the dam inevitably burst.
We both fell into a fit, laughing until
Our cheeks hurt.

As you mentioned many times before,
Nothing humorous led us into the chorus
of laughter,
For in this moment we had filled the other with joy
Simply being together.
How could we not express that?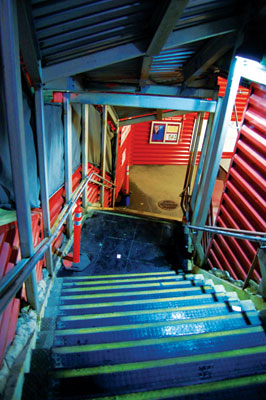 © Karen C., Holbrook, MA