Your Future
MAG
January 13, 2014
Visiting my aunt's house, downstairs,
I shuffle through a pile of clustered
old photos. I find a photo of you and your grandpa under
your sixth birthday party pictures.
I stare at the sunglasses,
too big for your face, and chubby cheeks
in the ray of fading sunlight. Sitting
in Grandpa's arms, you wear the old
race car outfit, bolding red and white
strips crinkling on your arms, grasping
for Grandpa's hand, slipping
further down his left arm. Seeing your future,
I sit in the stands on the cold, hard
metal bleachers
and watch your blue race car with a red
and white
outlined 44 switch into fifth gear.
The innocent 2-year-old deceives you.
Like when you pushed Chuckie down
the hardwood stairs on "accident," his body
convulsing in a mangled position.
Promising a great future, I want to warn him,
it's the wrong path, the wrong night. I want
to warn you about the car in the garage rusting
under the left tire frame,
about the ventilator that contracted
your chest,
and the spilled
prescription on the counter
next to a pack of Newports
with one cig inching out.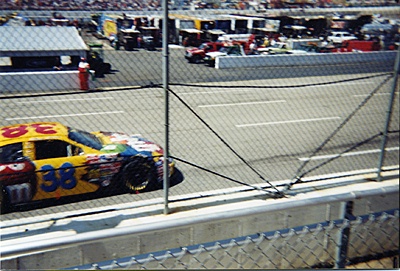 © Samantha R., Struthers, OH