I Woke Up One Morning
January 14, 2014
I woke up one morning
And the sun looked brighter than ever.
It nearly blinded me with its beauty;
Its magnificence.

I woke up one morning,
To find the bluebirds,
Perched upon my fence,
Singing their tune.

I stood.
I found a floor beneath my feet,
And a roof above my head.
A house.

It is often that people
Take for granted
The things that are
Most important.

Parents,
Because if there was no them,
There wouldn't be a you.

Friends,
Companions in life.
Laughing when laughter is needed,
And crying when tears are.

Hearing trickling rain,
And feeling the cold drops on your skin.
The beautiful music
That fills your ears at a concert.

Seeing the colors of the world,
And the people that make it.

The taste of sweet chocolate and fruit,
The spiciness of chili,
And the saltiness of seawater.

I woke up one morning,
And I could smell the fresh roses,
Planted just yesterday in the garden.

I woke up one morning,
And I saw the sunrise,
Filling the sky with a bright orange glow,
Like a freshly lit fire.

I woke up one morning,
And I saw life;
Life as it should be seen.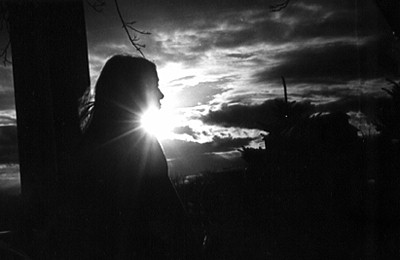 © Elizabeth G., Marblehead, MA