The Ultimate Catastrophe
January 4, 2014
A hypnotizing breeze hath carried me
Through the torrent of an unknown menace.
I observe the unseen origin vanish
I've gotten into the deep nihility.
Strange, vile hands conquer me into an intense dark.
On the periphery of the humane,
I detect an obscure deceased silence;
The air filled with an anonymous yammer,
The fluid flooded with a focused red.
In the rancor of the painful legacy,
I'm imperiled betwixt deep ravines of the sadistic
Like a prisoner of war.
When the dark gets darker,
Suddenly I watch a bright light in the grim night,
That hath appeared to abandon the murk;
To decimate this escapade.
It has transposed me to the end of the infinite
To let me watch, with solace,
The end of fraternity- The Ultimate Catastrophe.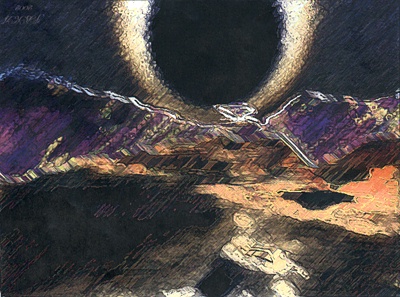 © Jason B., Colorado Springs, CO