Don't get me wrong, I still love you.
December 6, 2013
There's a weight on my shoulders,
but it isn't the world.

This heaviness is everything you've
ever said to me to make me believe

that nothing I do can convince you
that you're the greatest thing I've

ever felt beneath my fingertips;
It's every comparison you've ever

made between us and them; It's every
time I've said "I love you" and you've

responded with "liar," or a different
version of the word; It's everything

that I've never done for you written
in a list that would outweigh a phonebook;

It's the anchors that were once tied to
your eyelashes that you gift wrapped

and handed to me on our one year
anniversary in the form of earrings

after awakening from a self-induced three
day coma; it's the bowling balls made of

"you're not good enough," that I'm trying
to balance on the tip of my nose-

I'm sorry I can't perform any tricks with
them, you should add that to the list;

it's the bones you've claimed I've broken
with my words, but I was told that only

sticks and stones could really hurt people,
you proved that theory wrong. I'm no longer

allowed to own a scale, my mother is afraid
that the invisible weight will add to the

numbers I'm already afraid of. I think I met
the perfect girl for you in my dreams; she

looked a lot like me, except the list you
made for her resembles a blank piece of paper.

Don't ever try to tell me you miss me after
I'm gone, when you should've said you loved me

before you slept in my bed. I feel lighter with
every apology I hear fall to the floor every time

I take a step in a direction that isn't into your
arms, while I simultaneously become less afraid of

the number ill see between my feet. I can walk up
the stairs without feeling like my knee caps are

being forced into me. I have felt something better
than the feeling of your skin: relief.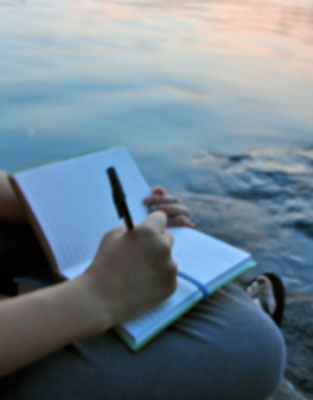 © Grace K., Port Washington, NY