Within The Stars
November 13, 2013
The sky is a mirror, reflecting us walkers of the earth.
The glowing within us is reverberated deep into the cosmos.
Billions of connections pinned up in the night.
A passing glance dim off in the distance.
Foot traffic forms constellations.
Our connectedness shines in the evening mural.
A galaxy of one. A heart throbbing light.
And in the light there was love. Brighter by desire.
And let our love be the sun. Let our love be mighty, the energy by which others grow.
And let our love be warm, sustaining through the vastness of time.
Future generations, in a sunset gaze, will know something great had come before.
And how true it was.
Just as we stare into space, reading the stories of gods and kings who once ruled the earth.
The rise and fall of nations, the brilliance of artists, and the bravery of warriors.
All of their legacy a supernova in time.
A beckoning to the beauty of life. With all of the meanings lost out in the universe, a treasure to be found.
And just as the stars navigate travelers on the high seas, they show us our path through the thick of it all.
Glistening just out of reach,
Reminiscent of the places we long to be.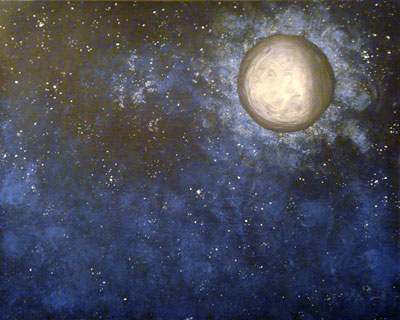 © Allison H., Vancouver, WA