Terror of the Night
November 5, 2013
Darkness.
That's how it always starts.
Endless darkness.
The blackness surrounds you
Like the smog in a polluted city.
Seeing anything around you is a challenge.

Then comes the running.
You run as if your life depends on it.
As it often plays out,
You never quite know
What exactly it is
That you are running from.
But it doesn't matter.

You keep running,
Or at least, you try.
The running strides give way
To trips and stumbles.
No matter how hard you struggle
You cannot get back on your feet.

You try to scream.
Nothing.
Your mouth moves
But nothing comes out.
The silence holds its cold hands across your face.
You are unable to make a sound.

You never catch a glimpse of your pursuer,
yet you know that you must fear him.
In your mind's eye,
He takes on the shape of every murderous villain
You have ever read about.
He is Jack the Ripper,
Who waits in the shadows for his chance
To paint the floors with your blood.
He is the fearsome Dracula,
Waiting to pounce and bleed you dry.
He is the werewolf,
Awaiting the perfect opportunity to pounce.
He is fear itself.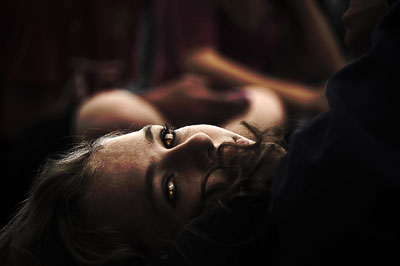 © Calvin C., Salt Lake City, UT