Two for the Show
October 12, 2013
Sweat oozes from me under the judgmental glares of a full house
and the hot to the touch stage lights.
I cook from the inside out, 95 and rising,
I'm in a suit.
As I scuttle into darkness relief washes over me in a wave of cool air.
I snake the mic up through my clothes
gently I peel off the tape, I've made that mistake, my fingers move expertly,
we've done this a million times.
"Good luck" I whisper at an inaudible volume
he slaps me on the back and opens his lungs for the music to escape.
Sprinting onto the stage, glowing with sweat under the harsh red lights.

My heels blistered from too tight shoes
my hands rubbed raw by age old ropes, but it's worth it.
A scar on my foot from a stray rusty nail
the thin white lines jagged on my once smooth shoulder
stupid enough to haul a bench across stage, in the dark, but I'll never regret it.
They trust me now
the harshest wouldn't dare yell at me
the annoying, I tolerate like it's nothing
the toughest aren't afraid to cry, they know I won't tell
they naturally trust me.

As I sit backstage
in tights so ripped
and a nice tight tank
with my sprayed till it's hard hair
styled as I'd never allow
with nasty blackened feet
so sore to even walk
and no energy left
I look around and smile
I love it
I belong
not gorgeous,
not prodigy,
not perfect,
not even good,
and actor
and I don't have to be great
it's not just about theater,
we're a family.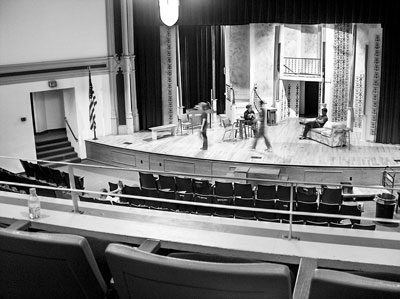 © Sean C., Princeton, IL