The Sweet Peas
MAG
October 11, 2013
Grandmother is the sweetest woman ever. Her house is always open, and she always bakes treats for you. She's a warm hug, and a friend to talk to when you haven't got one.

Grandmother had issues, whether it was with her heart, or her lungs, blackened by each cigarette she chose to smoke in her seventy-two years of life, you don't know.

Then, on a snowy day, it happens.
Grandmother falls on the ground in pain, shuts her eyes, and doesn't open them.

Your mother takes you to the hospital,
crying, making shuddering sobs.

You don't know what happened, until you enter a room called confrontation. You
see your dad, and your aunt and uncle, crying. More than crying. Softly
screaming in sheer pain and in sorrow.

The room goes dizzy, and all you can look
at are Grandmother's favorite flowers
sitting on the table.

Sweet peas. What she called you when you were little. Sweet peas. New ones each year on her dining room table. Sweet peas. The flowers she'll now have at her funeral. Sweet peas.

The flower that'll make you cry every time you see them, wondering why she died, what happened, inflicting pain and pain again, and it makes you sadder each day until you dare no longer have them around, ever. Sweet peas.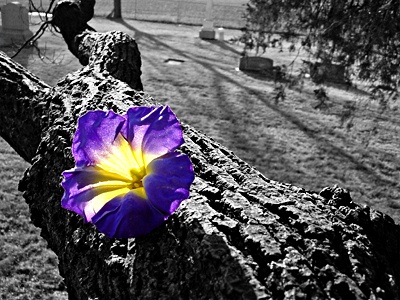 © Greg K., New Lenox, IL