Half Hidden Like The Moon
October 7, 2013
We poured a pail of stardust
Over the wounds to
pretend the damage hadn't been done but
our love
was not
futile
and our
past
could no longer be covered with glitter
to hide the mess.
Though the bruises were bitter
I am not
Yet the sour taste is left in my mouth of
an unrequited romance.
Your ocean eyes
last April
when I whispered goodbye
and left you
on your
moth-ball mattress.
Your ocean eyes
the high tide
when you called in June
and asked why
and why
and why I left.
I apologized
for filling the gaping hole
in your chest
with pieces
of myself
and
for
not kissing you goodbye
but mostly
I hoped that she could
be the smoke that escaped from your cigarette
the sleeping pill you swallow at 11 P.M.
the steam from your coffee (with two sugars).
I hoped she
could be
everything
that I could not be for you
and
I hope
she picks up
the pieces of me
the beige sweater I left
our photographs
my hair brush.
I hope you learn
that love isn't kept half hidden
like the moon
and wonder
just once
how I am doing
as I hold myself together
this lonely October night
without you.
I hope you
feel the hollow
pain
in your chest
as you trace your fingers
across her
back
while I trace mine
over the letters you used to write.
I do not want you back,
but I do hope
that
she loves you as much as I did
and wants to inhale
your every exhale
until your very last breath.
I hope she thaws you out
because
you
sure
as hell
froze me.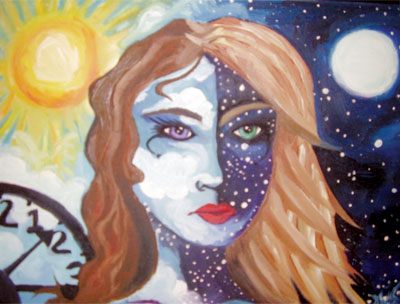 © Amanda S., Attleboro, MA