A Reason for the Unreasonable
September 16, 2013
I've been having a lot of strange thoughts lately.
Nothing too weird, but I've started wondering about... things.
Odd things
Like how I laugh at my own confusion, or why my desk doesn't decide
To get up and walk away after lugging my laptop on it for so many days.
Or why my sister's depiction of me deviates from Jeeves the chaperone to
Dan Juan, that funny Spanish guy two doors over that always brings party Balloons and funnel cake because it's someone else's birthday,
And that that's reason enough to celebrate.

It's nothing special, wondering about what's strange.
It's human nature to speculate about the unknown and draw our own
Conclusions based on the factual knowledge that we have at our disposal.
But it's not that I wonder about what does make sense.
It's that I wonder about what does not.

When I see a clump of clouds, lazily laying their bodies across
An expanse of a sky-bound sea, I think to myself
"Why don't they start to swim? They're going somewhere, so why don't they
Move themselves and get there faster?"
And most would say that thoughts like these don't matter.
That they should be left for daydreams and the leaning on of elbows that
Belong to a child snoozing during his kindergarten nap time.

Most would say that such thoughts are to be left behind because there's no
Point, no purpose behind them. That I'm supposed to mind my superiors and Surmise solutions to the questions we all want answered.
Like the cure to cancer or building a rocket to Mars, traveling across a Stardust speedway and racing meteors because they dare to challenge the
Speed of human ingenuity.
I'm doing it again, aren't I?

Well, it's just something that I do. I see a pip of metal in the collection of Lint, a lone rosebud on the moss growing on the still stone that is logic.
People say that I shouldn't think about what is not real because it will never Be real.
But that's why I think about these things, because when I imagine what is Not, I am able to make it something that is.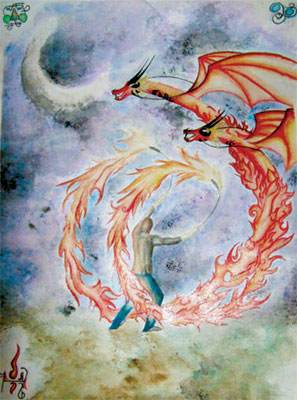 © Garrett P., Reno, NV