Put it on My Tab
August 24, 2013
Sometimes, I just really need a drink.
I know it is no good for me,
And it surely won't make all of my problems simply
Disappear,
But the numbing powers it holds,
Making me feel naught,
Works just the same,
Even if it is only for a little while.

The drink in which I thirst for
Is one that would surely do me in for good-
It is not something you can pour on the rocks,
But something that is already on the tongue:
I wish to drink up all of the words
You could ever possibly say
And let them soak into my bloodstream
So they can course through all my veins,
Telling all of the stories you hold,
And configuring themselves into all of thoughts
You never thought could escape
The labyrinth that is your mind,
So I could know what it would be like
To be someone like you;
Someone who I don't entirely know yet,
But I'd like to.

Now, I would buy this drink for hours,
Tossing back every story's glass,
And every thought's shot,
Until my BAC was far beyond the legal limit,
And even pass the alcohol poisoning point,
Just so I could soak you up
And take some part of you home,
Granted if I could stand or not,
Because at the end of the night,
After last call and after all of the drunkards have slumped home,
I could say that I had some part of you on my lips
That no one has ever gotten to know.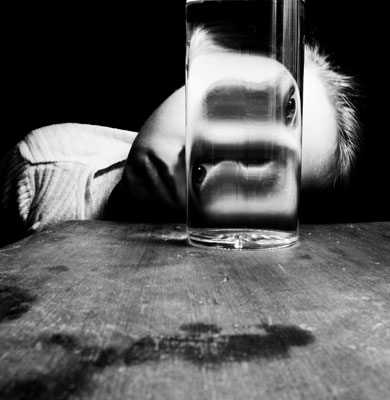 © Sarah M., Blairsville, PA