Distinctive
July 31, 2013
He waits, frozen, unsure of how to organize his
words
into sentences, paragraphs, pages, chapters
worthy of being published.
The dim light glows on the empty page,
the silence of the night is disturbed by the impatient
tapping of his feet,
drumming fingers against the desk.
His fingers are
paused
over the blank paper,
the pencil leaning against the paper, leaving a small black
dot.
The words are flowing around him, and he waits for the
perfect
adjective, noun, verb to come.
He selects his words
carefully, making sure the flow
into something beautiful.
Story flows
like a melody, and soon the page is filled.
Pages fills chapters, chapters fill a story.
A story, brimming with vivid sceneries and characters filled with
emotions.
He and his story fly away,
touching people's hearts on the way,
inspiring others to make something beautiful.
A handshake seals the offer that has been made.

And now,
he is back at his simple desk
only he now selects his words differently,
so he can make a new
beautiful creation.
He glances at the
bestselling title
'Distinctive'
He reaches for it, and flips through the pages
of his best work. He smiles, his mind flowing with
ideas for his next piece. Proudly, he closes the book.

Slam.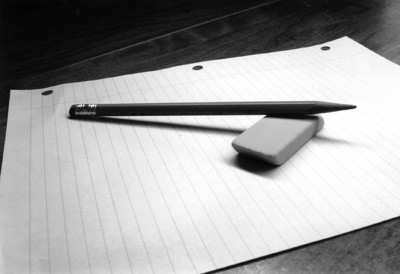 © Michael H., Mildford, CT